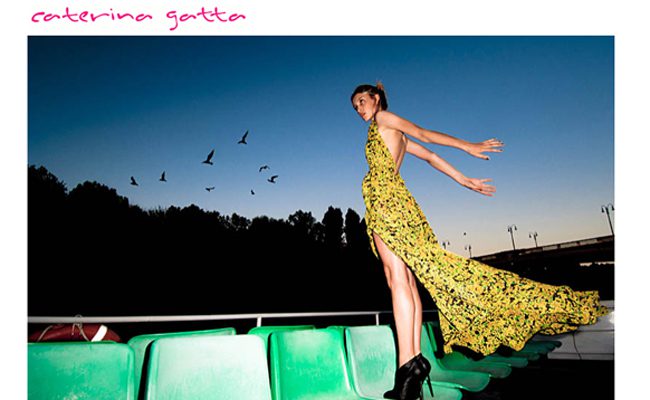 Capturing the hearts of every spunky, color-loving fashionista, designer Caterina Gatta uses her unique perspective to make fascinating one of a kind garments. With a major in the Science of Fashion and Costuming, Caterina knew what she needed in order to make a successful fashion brand.  As a talented Italian designer, Gatta quickly made all the moves to start her own fashion project in 2008, which she named Caterina Gatta.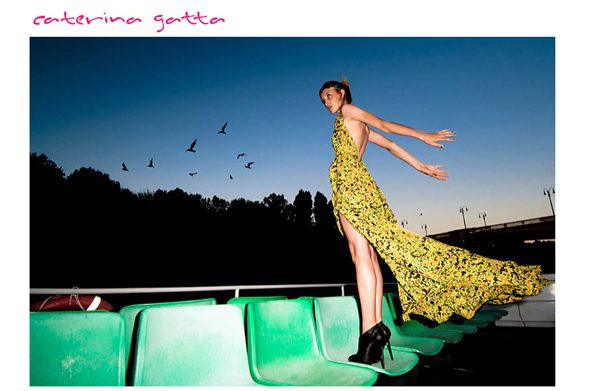 Gatta's passion for color constantly helps the growth of her fashion collections, but there is one thing that truly sets this fashion guru apart from the many. With a lasting love for high-end vintage fabrics and prints, Caterina Gatta's collection utilizes classic fabrics from some of the most renowned luxury designers. These designers include Gianni Versace, Yves Saint Laurent, Givenchy, and Valentino just to name a few.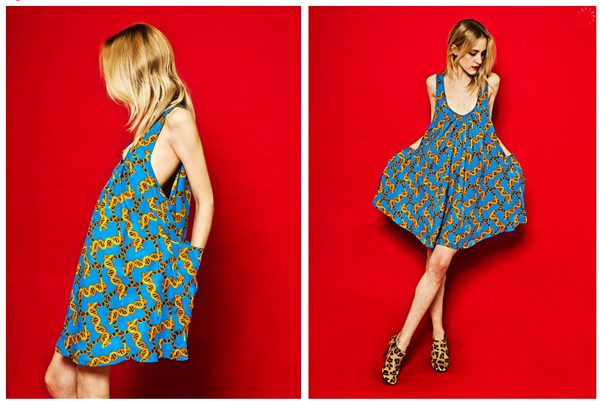 She tells us that she loves using these vintage fabrics because it, "draws on the past to project into the future." Even though these luxurious fabrics never become truly out-dated, Gatta's garments bring a new meaning to the word vintage. The Caterina Gatta collection rediscovers the fabrics through the color, print and pattern and gives them a new life and meaning.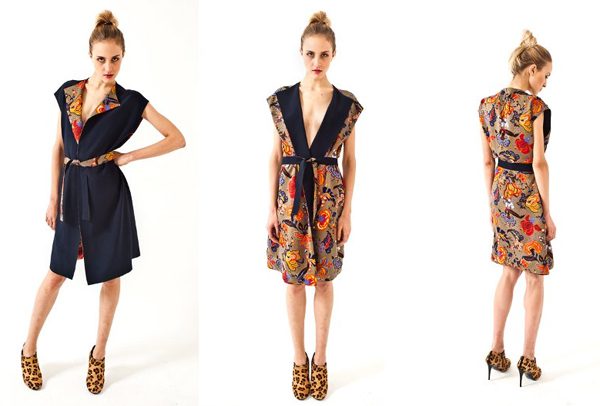 The collections of Caterina Gatta feature dresses, sweaters, shorts and the cutest skirts around. Her designs feature many great things such as a beautifully crafted paper bag waistline to a one shoulder pleated sleeve. Playing with fun shapes and silhouettes, this sassy designer knows how to make a woman feel elegant and electric on any day of the week.
Caterina Gatta has distinguished herself as an original designer and whether it's from her reversible garments or her free spirited styles, I guarantee that you will fall head over heels for this classy lady's looks.
StartUp FASHION had the pleasure of interviewing Ms. Gatta, and here we share it with you:
StUF: Where did you originally get your inspiration to become a fashion designer?
CG: It was when I found the first fabric signed by princes Irene Galitzine. It was a really precious fabric so I decided to research more brands and build a collection. I started collecting fabric form Fausto Sarli, Gianni Versace, Givenchy, Gattinoni, Valentino, Ungaro, Mila Schon and many more.
StUF: How would you describe the styles of Caterina Gatta?
CG: Very fresh, modern but in the same way classic, timeless and elegant. I like to dress people with different backgrounds, I love the fact that two completely different woman with different interests, who come from different countries, could  like the same clothes.
StUF: All of your pieces are unique and special in their own way, if you had to pick a favorite what would it be? 
CG: The simple foulard dress,  an evergreen piece and is the sign of each collection.
StUF: You tell us that all of the pieces in your collections are made from high-end vintage fabrics. Where do you go to find these "collectable" fabrics?
CG: The research of the fabric is the hardest part of my work, is really difficult to find them.. sometimes they come from Italy and others from Paris, London as well from Los Angeles!
StUF: How would you describe your ideal customer?
CG: An independent woman who chooses dresses to fit her personality and she doesn't care about the last trend of the moment, she likes to play with clothes.
Stuf: What were some of the difficulties you faced in starting your own fashion collection?
CG: The production was the first question mark, since the fabrics are vintage I don't do huge production and so this was the hardest aspect in the beginning. Secondly, finding someone who believed in me; it is very important for young designers to find someone who is able to support and guide you towards the right direction. Vogue Italy and Vogue America are a good example of that. They are constantly creating opportunities for young brands and helping them growing up.
Stuf: What is your favorite thing about being a fashion designer?
CG: I can express myself.
Stuf: What are your plans for the future of Caterina Gatta?
CG: A collection of accessorize that will be ready for the next season. Stay tuned!
For more information you can visit Caterina Gatta's website of find her on Facebook.