Having a fashion business is damn hard.
But it's not impossible. You can do things differently. You can do it your way.
Decide what you want, set your path, and focus on getting there.
This is a call for all of you out there who know that you have something to offer this world, who believe that you have the right to have total control over how you live your life, and who know that you can build the life and business you want on your own terms.
Who We Are
StartUp FASHION is an online community where independent designers and emerging brands are helping one another, forming friendships, collaborating, letting off steam, sharing victories, and belonging to a network of people who get it; who are doing it too.
We're a place to discover the limitless ways you can build your fashion brand by helping you create your path and giving you the guidance to follow that path.
Our Promise to You
We promise to always support you in your goals, cajole you into committing to your work, push you to have more focus, remind you to embrace your edginess and celebrate your weirdness, and to do whatever is in our power to help you create a life and build a business that make you happy.
You can do this.
We are on a mission to help you, independent designers, to thrive at doing what you love!
[divider]
How It All Started…
(A quick note from our founder)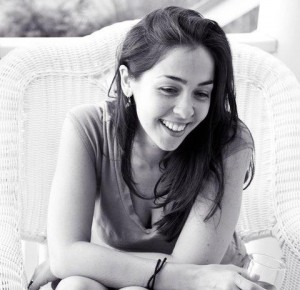 I wanted to be a designer. Too bad I'm not all that talented.
I spent the whole of my childhood believing that I would grow up and make things; I would be "an artist" as my profession.
Well, I was wrong.
I'm not an artist, I'm not a designer, I'm not crafting beautiful fabrics in my backyard studio with skeins of tencel yarn draped from the rustic walls, mismatched colorful carpets and patterned pillows strewn about; weaving looms and cutting tables set up in every corner.
Don't be sad for me.
I was a designer once, a textile designer. And I loved it. I still love weaving. It's just that now, almost 15 years after graduating from design school, I do it as a hobby, instead of as a business.
What I learned during my years as a designer is that while I don't love designing as a business, I do love helping other people to design as a business.
You know what else I learned?
That the only way to be truly successful in business is to build a business around the life you want, not the other way around.
This poses a bit of a problem in the fashion world.
There are so many rules in fashion business; seasonal deadlines, the "right" press, minimal number of pieces per collection, celebrity endorsements… it's exhausting.
But it does not have to be.
What is it that you want in life? Write it down.
What is it that you want in work? Write it down.
How and where do these answers intersect? Where is that cosmic explosion?
I believe that is how you create a successful business. Right there, that sweet spot, that point at which you say, "Wouldn't that be amazing?!"
Amazing is not illusive. Amazing is possible.
I decided I wanted to help designers find their amazing.
So I created StartUp FASHION, a place to learn, connect, share, and thrive. A place for independent designers (both newbies and seasoned) to build their AMAZING.
~Nicole
[divider]
Get in touch with StartUp FASHION:
E-mail : hello@startupfashion.com
Twitter: @StartUpFASHION
Mailing Address:
StartUp FASHION LLC
P.O. 1611
New York, NY 10013