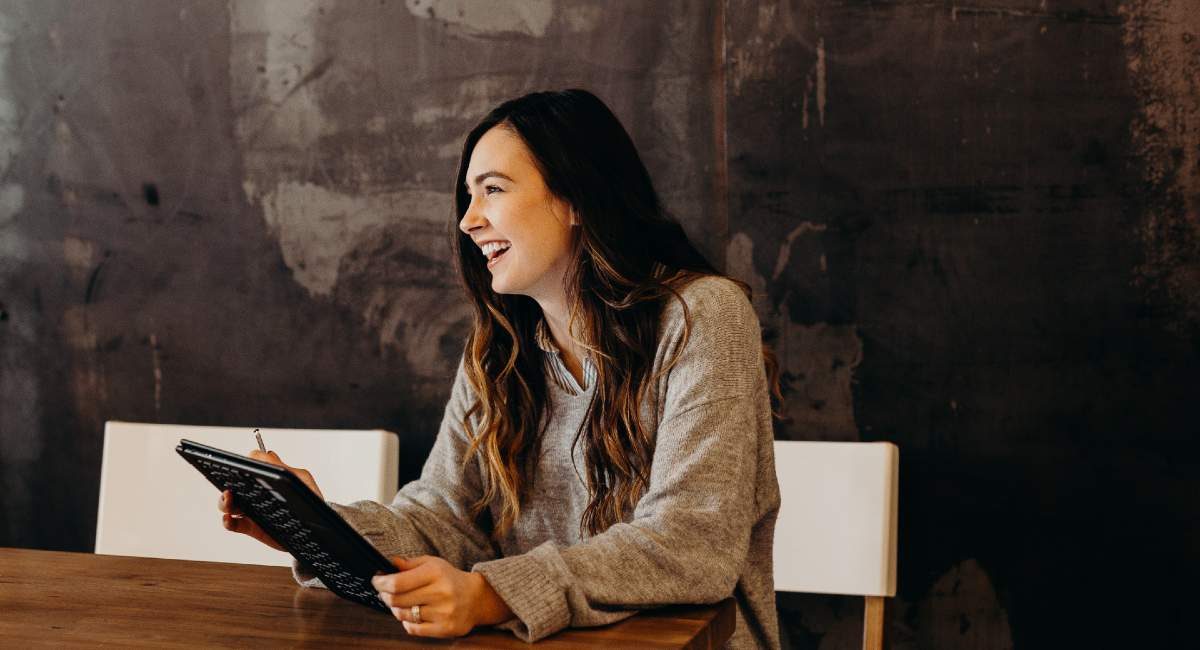 Taking pre-orders is a powerful way to build buzz for your fashion startup, predict sales, and get an early influx of cash to help you with inventory or marketing. But taking pre-orders requires even more planning and strategizing to make sure you build up the excitement and exclusivity for your product, create a seamless customer experience, and deliver your products as promised. 
In this article, we'll guide you through the key steps to ensure your pre-order marketing is a success. 
Tell a story
Customers who purchase your pre-orders are often investing in you, the founder, and your mission. They're taking a chance on you, to help support you. Take this opportunity to share the backstory about why you started your fashion company, what you're trying to offer, and what your journey has been like from idea conception to production. 
Introduce yourself and why you're the right person to design your product and bring it into the world. Introduce your team, vendors, and supporters. This is a chance to use quality video, photography, and the written word to create rich content that you can leverage throughout the marketing funnel: email, website, social, and more. 
Consider the customer journey in Your Pre-Order Marketing
Imagine what your customers are thinking and experiencing while they go through the pre-order process. For example, if you're selling a jacket that's designed specifically for travel, you'll want to show all the features that make it unique (especially since the customer won't be able to physically examine the jacket in a store yet). Use photography to show these details and point out the use cases. 
Think about what questions your customers might want to have answered before they're ready to purchase. When will you deliver? What materials did you use? What was the manufacturing process? Can you provide a size guide, and demonstrate the fit on different models? What is your return policy? 
With the rise of e-commerce, most customers are comfortable purchasing online without seeing the product in person, but pre-orders add another level of uncertainty that you have to help the customer get past. Get ahead of their questions and answer them along the purchase process!
Provide value 
What is the reason that your customers will be willing to pre-order instead of waiting to purchase when you officially launch? One of the main reasons is that the pre-order comes with added value. For example, you offer early access to your designs, or you offer a discounted price for pre-orders. 
If your brand is totally new to market, a discounted price is probably your best bet to add value, since people won't be familiar enough with you yet to prioritize early access. However, if you've created a completely unique product that you think everyone will want to get early access to, this is still a great option!
Another way to add value is by giving your customers other rewards. Brands who run pre-orders on Kickstarter or Indiegogo often do this with different levels of rewards, like promotional swag or experiences (like meeting you!). Figure out what's important to your customers and design your reward tiers accordingly. 
Build trust
With pre-orders, you need to build a level of trust with your customers to convince them to give you their money, without immediately getting the product shipped. 
Consider how you can add trust to the process. For example, you might consider getting testimonials from a few trusted sources who get samples. Place these prominently on your website. 
You can also build trust with your storytelling–show your customers the process you went through in design, production, and quality testing, so they really understand what they're getting. In addition, giving more insight into your background and experience may help to build trust that you're the right person for the job!
Build buzz with influencers
Influencers can be another great way to build buzz and trust for your pre-orders. If you are able to get enough samples to send out to pre-orders before you launch, influencers can help you by building awareness in their communities. Influencer seeding can also add to the excitement and exclusivity element of your marketing campaign; if they love your product, they can make their followers want it too!
In addition, they can give added credence to your brand by supporting you and also displaying what your designs look like on different people. Being associated with trusted influencers helps build trust with your community. 
Momentum is key
Momentum is essential for any pre-order campaign, and this is especially true for pre-orders on platforms like Kickstarter and Indiegogo. The faster you get pre-order sales when you launch, the more relevant people that will get shown your campaign. You can help boost your momentum with social media. Do this by encouraging customers to share their purchases on social to drive referrals. 
When thinking about planning for momentum, make sure that you are putting your full efforts into a pre-order campaign, and leveraging all the marketing channels you have at your disposal. Don't just limit your launch to social media or email; think about how you can add buzz with press, paid ads, partnerships, and events. 
Schedule your promotion in a way that adds to the momentum as well. After sending out your launch email, don't wait a month before contacting your community again. Share your progress on your pre-orders, status updates, and major milestones to keep the momentum going!
—–
Are you planning to run a pre-order for your fashion startup launch? Why or why not? We'd love to hear about how you plan to use pre-order marketing to make it a successful launch.