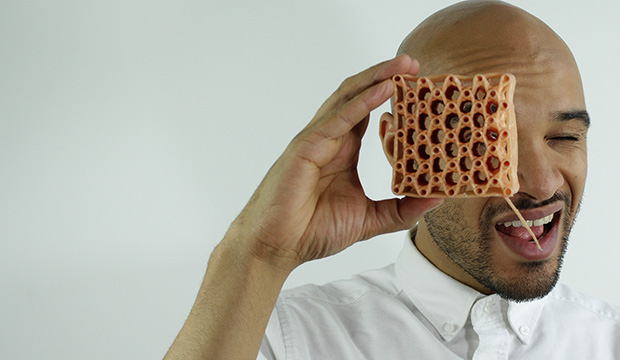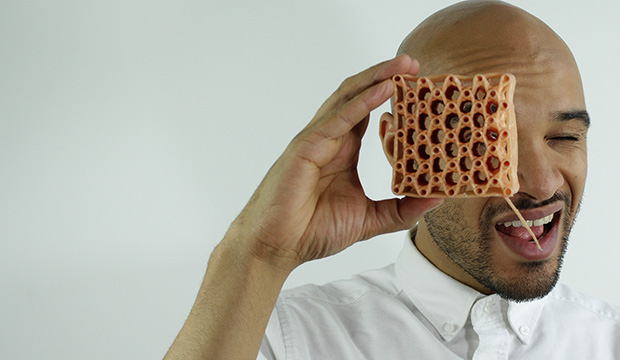 Need to design a garment that's tough enough to protect the wearer from dangerous weapons? We've got a suggestion: a new 3D printed fabric developed by Royal College of Art student Oluwaseyi Sosanya. According to Wired, it would be an adequate defense in the event that "a knife-wielding crackhead came at you swinging." Sold.
Sosanya's incredible textile technology seems contradictory. While the fabric is made from yarn, it is strong enough to stop a knife, protecting the wearer from harm. The potential uses for this kind of material are vast, and could be beneficial to police officers and soldiers, particularly women who may struggle more with heavy protective gear.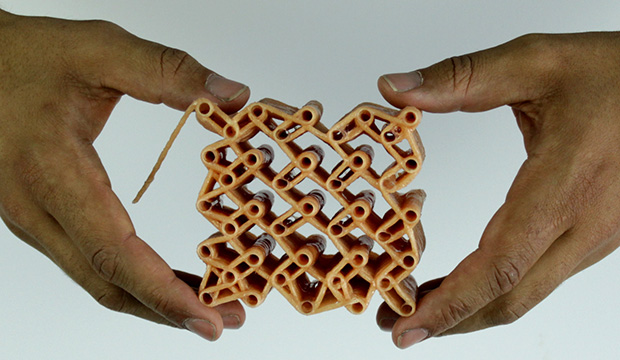 So how is this technology even possible?
Let's start with materials- the fabric is created from cotton yarn, liquid silicon, and hardware that dates back to the Industrial Revolution. As for the production process, this is where it gets really interesting.
At first, Sosanya paired up with weaver Sophia Zajicek to create the fabric structure. However, they quickly realized that they would need something more substantial than a flat woven piece to get the results they were looking for.
This would require the use of an entirely new production method, specifically engineered to fit the Sosayana's needs.
A custom machine was built, combining technology from knitting and sewing machines, as well as 3-D printers.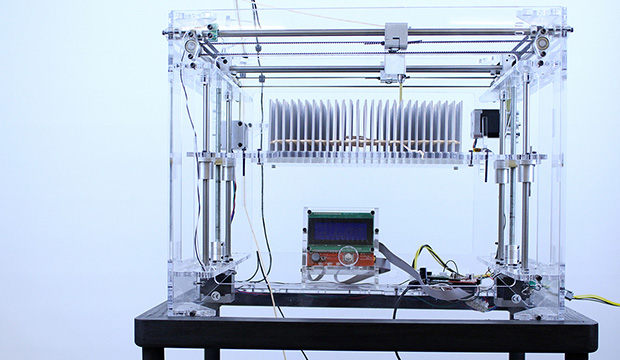 This gave the designer the ability to specify the exact placement and structure of the yarns in three dimensions.
Having so many details in his control allowed Sosayana to engineer "crumple zones" within the fabric structure that absorb and distribute impacts to minimize injury to the wearer.
To use the technology that Sosayana has developed, a designer needs only some standard cotton yarn and a CAD file. The software will draft an impact-absorbing weave structure. As the yarn is being woven, it is coated with a silicon binder, allowing the fabric springiness and the ability to retain its shape.
So far the only prototype created with this fabric have been sneaker soles, but we are sure the best uses are yet to come!