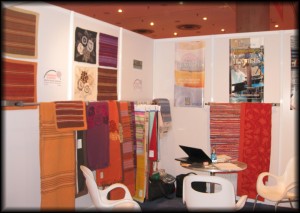 So it's been a hectic couple of weeks worth of textile shows in New York.  I've attended a few; some good, some….not so good.  Sometimes I left feeling inspired, sometimes I left feeling bored.  A show that I touched on lightly was TexWorld. Last week, in the midst of all the craziness, I simply shared a few images from the show with a promise to write more soon. Images, by the way, that I was able to get due to the kindness of TexWorld's marketing manager.  I love when folks acknowledge bloggers as relevant members of the press.  Anyway, I digress.  Back to the show.  So, here goes.
TexWorld; a show with a lot hype. It seems to be a place where industry pros flock with expectations of networking, sourcing the perfect new vendors, and getting their hands on the fabrics they need.  Now, this is a pretty big show. Aisle after aisle of  booths filled with header sample galore.  And while I found this show to be abundant with useful and widely used fabrics, I can't help but feel a little disappointed in terms of innovation and inspiration.  I mean, personally, I attend these shows hoping to be exposed to the new and interesting in the world of fabrics.  I want to exit with an excitement about what I just experienced.  And, unfortunately, I just didn't feel that this time around.  I mean, it's a fantastic place to visit if you're looking for the basics, a place to check out the necessities, or if you want to counter source your lining fabrics.  And, in my opinion, there is value in that. But it's not the place to go with your sketchbook and lust for innovation.
So, I'm curious, am I the only one who feels this way?  How many of you out there attended TexWorld?  What were your thoughts?  Were you a bit bored or was your time well spent?  Do tell.