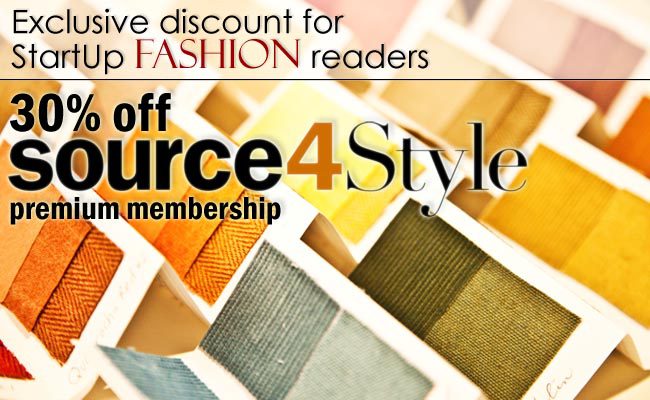 Sourcing the right fabrics can be a tricky, time-consuming job.  But once you add the desire and need for sustainable textiles, it becomes even more so. That was until, Source4Style made it's BETA debut last year.
Co-founded by Summer Rayne Oakes and Benita Singh, Source4Style is an online resource that provides an easy way to get what you need to put a line into production while still remaining conscious of sustainable practices.
The platform acts as a tradeshow, but the fact that it is online alleviates one problem with shows right off the bat: designers do not have to travel long distances to have access to necessary materials.
Designing with sustainability in mind is tricky enough, but if a designer cannot get the textiles and notions needed to bring this vision to life, it is impossible. However, through Source4Style, one can search through a selection of materials and services specifically tailored for the eco-conscious designer.
Users are able to search by criteria such as price point and location, which is great for sourcing locally. The site supplies sample swatches, but the products themselves are ordered directly from the supplier, giving the designer more control over the sourcing process. There are over 35 suppliers to choose from; they provide over 1300 products including not only fabrics, but also yarns and notions.
In order for a supplier to get into the Source4Style database, a thorough questionnaire must be filled out and reviewed before new products are added. Because the database is so thoroughly moderated, it is easy for a designer to find what they need at a good price and good quality. This eliminates another big issue: time.
According to Summer Rayne Oakes, many designers spend more time sourcing than they do designing! It can be a difficult and confusing process, especially for recent graduates who may not have been taught much about it and cannot afford to make mistakes. It's a goal at Source4Style to help designers source materials as quickly and easily as possible so that they can do what they do best- design!
And all designers can benefit, whether they are a student, emerging, or established, as it was created with accessibility in mind. A notable user of Source4Style is Christian Siriano of Project Runway! Siriano has used the site to source materials for New York Fashion Week.
This is a great time to be using Source4Style, as it has just launched its 2.0 site after spending a year in beta! There are lots of exciting new features available that are perfect for the emerging designer:
The Academy:  a collection of articles and videos covering everything from the latest news in the industry to tips for designers.
The site model  has changed from a commission-based model to a membership model.
Complimentary membership is free and includes access to the entire materials marketplace, swatches, free shipping, and materials specs such as weight, weave and country of origin.
The Independent Premium access: can be purchased monthly or annually with 2 months of sourcing free for the former. In addition to the above benefits, premium membership allows the designer to contact the supplier directly to customize an order. Also included is access to informative webinars that will take place several times per year, as well as trend forecasting (a service that is very expensive on its own!)
To check out the site, visit www.Source4style.com.
If you're interested in a membership, Source4Style is giving a discount exclusively to StartUpFashion readers!
To get 30% off a premium membership, enter the code 30SFS4S25 at the checkout! Hurry, it's for the first 25 readers to sign up!