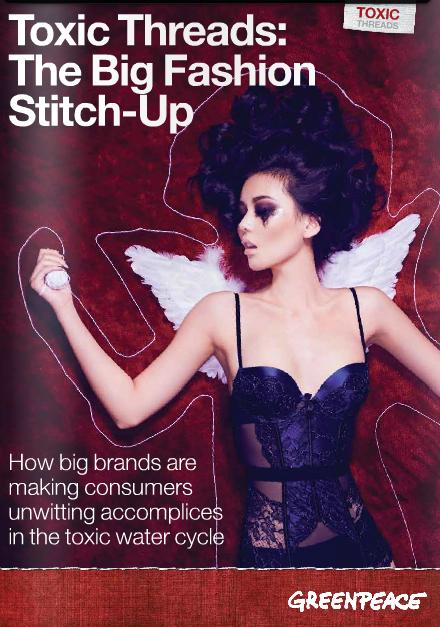 It's no secret that the fashion industry has a bit of a dark history regarding its relationship to eco-friendly practices that are gaining popularity today.
Large, global brands in particular, have struggled with maintaining integrity while keeping the costs of day-to-day operations down. But while we can't change the past, the industry is certainly able to try to resolve the issues of today. And recently, the well-known environmentalist organization Greenpeace has called for just that.
The account revealed that harmful toxins were present in textiles sourced by many large international brands, including but not limited to GAP, Calvin Klein, and DKNY.
A subsequent campaign is being launched for brands to make a commitment to purging all their products of hazardous chemicals by 2020 as well as for suppliers to be upfront about any toxins released through their production methods.
"As global players, fashion brands have the opportunity to work on global solutions to eliminate the use of hazardous substances throughout their product lines and to drive a change in practices throughout their supply chains," the report said
For many of these brands, it is clear they have been caught red-handed and they have subsequently pledged to go "toxic-free."
This is certainly a milestone for large fast-fashion labels. With so many powerful players in the fashion world making this effort, the results could be huge. Companies such as Nike, C&A, H&M, and after much public coercion, Zara, have claimed to make the commitment.
Not everyone is quite so eager to jump on the bandwagon however.
There are companies that have not put out any kind of response at all. For the majority of them, the reason could likely be the sheer amount of effort involved in such an endeavor.
However, Danish brand Bestseller makes a counterargument rather than simply ignoring the report. Upfront about its intentions not to work with Greenpeace, the label believes that it's
current environmental efforts are making good progress and (their) clothing is perfectly safe.
They also consider Greenpeace's demands to be
unreasonable and hypocritical.
No matter which side of the argument is true, one thing is certain- the fashion world has become transparent, and consumers' knowledge is power. In order for labels to succeed in the future, integrity is a requirement.
What do you think?  Should fashion brands be held accountable for the chemicals used in the clothing they produce?